As I had Aimee and Troy coming for a game of cards this evening I wanted to give them a decent dinner but didn't want to spend time in the kitchen cooking it all up and then having a bloody great mess to clean up after, so I made a few short cuts.
I prepared all this at 10am this morning and shoved it in the crockpot.  I used frozen chopped onions and frozen mushrooms to save me time buggering around chopping.
I served it with heated tinned new potatoes and a frozen cauliflowers and broccoli mix to save me from having to prepare and cook fresh vegetables.
For pudding I gave them a Mars Icecream Bar.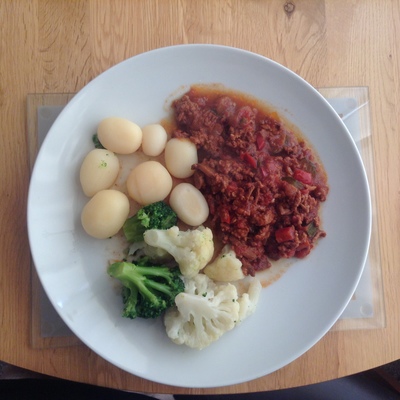 Served 4 people.
Ingredients:
Tbsp Olive Oil for coating the pan
Large brown onion
2 garlic cloves
1lb (500g) Lamb Mince
400g (14oz) Tin of chopped tomatoes
Generous tbsp of tomato purée
A generous helping of sliced mushrooms
Large red pepper - chopped into small cubes (sweet capsicum or bell pepper)
Large or 2 smaller courgettes - chopped into cubes (zucchini)
Beef stock cube desolved in half cup of boiling water
Pinch salt
Dash of Worchestershire Sauce (optional)
Method:
Turn the crockpot on high to heat
1) Sweat the onions and garlic in a saucepan on the cooker hob with the olive oil.
2) Add the minced lamb and keep turning it until brown.
3) Drain off all the grease then put back on the cooker
4) Stir in the chopped tomatoes and tomato purée and allow to come to the boil.
5) Stir in all the other ingredients one by one making sure the mixture stays hot.
Turn it all into the crockpot and leave on high for 3 hours, turning it down to low for the rest of the day.
This can actually be cooked completely on low all day (7 - 8 hours) if one wanted to put it in the crockpot early in the morning before going out for the whole day.
I only cooked it half on high and half on low because I put it in late and we ate early.