This was made with a second hand sheet costing £3 and the lace bottom came from an old single size bed skirt that I have had and not used for many years.  I still have plenty of the sheet left to use for something else.
Before I set to and seriously attempt to make a 1700s outfit I wanted to practice how best to put it all together.
Once on, this one I have made looks no different from a today's style petticoat made of cotton.  Of course if I ever get around to actually making a repro 1700s one it will be a lot wider, without the lace, made with linen or pure cotton and hand stitched.  This one though I can at least wear under my long skirts in the winter for extra warmth.
As you can see by the images, you tie it up by bring the back two sides up and tying at the front, then lift the front up to tie at the back.
It's surprisingly comfortable to wear as you would think the ties around the waist would be an irritant, but in actual fact you simply feel them no more than you would an elasticated waisted petticoat.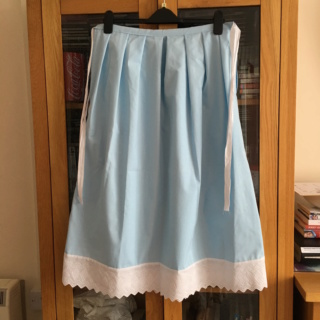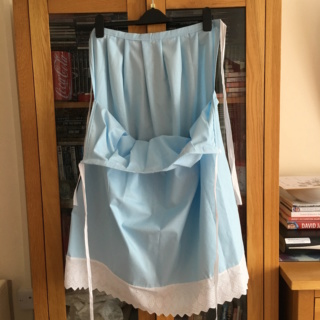 They are very simple and easy to make but I, at first, made the mistake of trying to stitch up the pieces in the order one would make a modern skirt.  I also originally made the waist gathered which cause a rather large bulk of material at the waist.  Not good.
So after a lot of unpicking and 3 goes at it, I finally have got it down to a tee.
Normally one would sew up the sides, then create a waist band and use elastic for a petticoat and a zip for a skirt.
But, I discovered that once one has cut out the two pieces it's better to give each piece a waist band first, pleating instead of gathering, then sew the two sides together afterwards.
Once that was done I then added one long, single strip of lace around the bottom.
At first I had to juggle how wide to make each waist band so that they over flapped at just the right amount when tied up.
On my first try I made them too wide and they over flapped too much which made the two sides of the petticoat hang wrong.  It needed to be just right enough so that one's skin couldn't be seen at the sides yet at the same time allowing the gap in order to put one's hand in to access the pockets that would be worn underneath.
I discovered that the best way to do it was to use half the width of one's waist size plus 2 inches for each.  I found it best to measure my waist in the evening when at it's widest which I then rounded up to the nearest full inch.
Now I have created this one, I can see that any future under or over skirts I make can easily be done in a couple of hours unless I was hand stitching.